About Global Photonics Solutions
Global Photonics Solutions (GPS) is a 21st century global manufacturing company. 
GPS has been manufacturing LED displays, LED billboards and LED video walls for almost two decades and have delivered over three million square feet, worldwide. 
Our LED modules, also referred to as a tile, are manufactured on our state of the art, fully automated, advanced manufacturing platform. We use the highest caliber components from the United States, Japan and Taiwan, the most stringent placement geometry, the ultimate in reflow technologies and a quality control process that responds and corrects up-line errors. 
The LED module is, in our opinion, the most important part in the LED display and it's where GPS exerts our engineering and science prowess.
Our cabinet factory is outfitted with calibrated advanced panel bending systems for our lower density display cabinets and CNC milling for our ultra-high density cabinets. We use laser alignment on all cabinet production to ensure a perfect display surface.
Our engineering team is made up of electrical engineers highly skilled in PCB (printed circuit board) design, mechanical and structural engineers constantly innovating and perfecting new cabinets for less weight and higher strength and LED semiconductor scientist working to improve light output and reduce energy consumed as well as innovating new LED encapsulation packages.
Bottom line, our advanced manufacturing platform, our engineering and innovation lab coupled with our forward looking science and our commitment to the consumer, make us the leading white label LED manufacturer globally.
GPS continues to break barriers by making exceptional and innovative technology. We now want to break new barriers. We are opening our factory to the end-user. We believe the end-user should have the right to buy directly from the factory and save. And we believe as the factory, we will serve you well.
Our platform also gives us the ability to focus on the customer and their wishes of design. We have the ability to customize your display to exactly what you want. How? Because we manufacture the components. We can make any shape you want. That's our standard practice.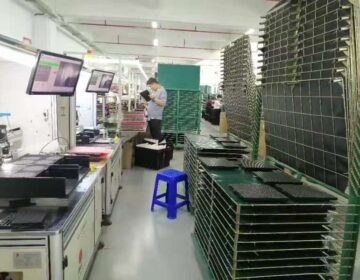 Our quality control inspects 100 percent of our products at three different levels.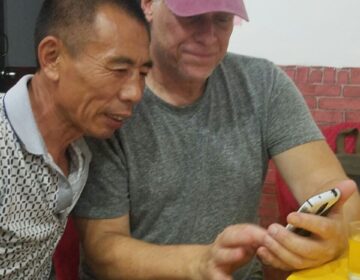 Brian Evans, founder of GPS, explaining a new process  to a factory worker.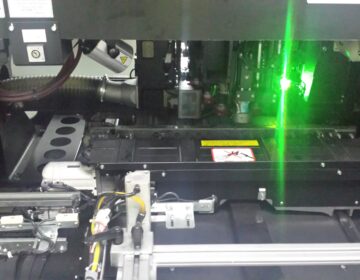 It's all about precision, ours is laser guided. 
From The U.S. To China And Around The World
Our modules are on or in buildings around the world. Our factory participated with others to produce the display on three miles of buildings in downtown Shenzhen.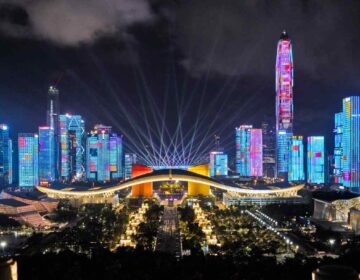 Downtown Shenzhen Synchronized Light Show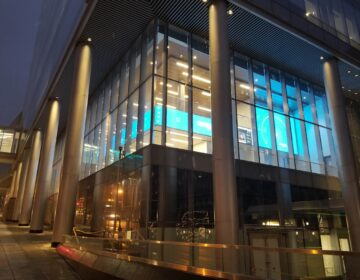 Downtown Clayton Missouri, The Centene Building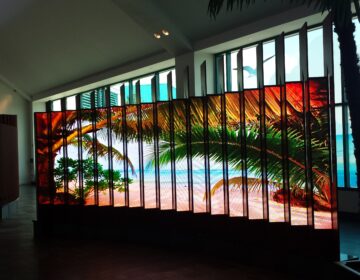 Customization is our standard. ​